Chalkboard Art:
Size of the Baby:
Gender:
Christopher Wesson Nabors
will be moving into the Naborshood - expected arrival April 27, 2016.
Maternity Clothes:
Rockin' the clothes I currently have. My belly is becoming more and more noticeable. Zippered jackets/vests are getting harder to close.
Movement:
Little Wes is moving around pretty consistently. I feel him more when I'm sitting and we see him moving now when I am laying down. He was a wiggle worm at the sonogram, but was trying to find a comfortable way to sleep more than anything.
Sleep:
LIKE A ROCK.
Missing:
Alcohol. I really wanted to celebrate our baby boy with a drink in hand like many others, but alas that's not going to happen for another 4 1/2 months... if that!
Nursery:
Now that we know it's a boy we can start thinking about what we want the nursery to look like, though in all honesty we haven't put a ton of thought into that up until now.
Craving:
Notta.
Symptoms:
Notta.
Ryan is:
so stinking excited that we are having a little boy. I feel honored that I was able to give him a boy, you know other than the fact that I had ZERO control over that. I know he is so excited that the Nabors legacy will continue through our son and that whoever comes next will have a big brother to protect them. Y'all, he is on cloud 9.
Looking forward to:
Planning the nursery and REGISTERING!
Best Moments:
Revealing Christopher Wesson's gender to everyone! We could NOT be happier about our sweet baby boy.
Gender Reveal Party Pictures:
We got lots of family and friends gathered at one of our favorite Thai Restaurants, Banana Leaf, to do our gender reveal. I had ordered these cute miniature boxes from Amazon and Ryan and I stuffed them with blue candy the day we found out it was Wesson and not Adair.
We waited until everyone ordered their food and then as we waited we handed these out. Ryan's Grandmother wrote an adorable poem about the gender reveal so she read it, and then we had everyone open their box at once. It was so wonderful to hear the squeals of excitement and see eyes get misty. We know little Wesson is already so loved by so many!
IT'S A BOY!
Christopher Wesson Nabors
Adorable bib from Lo. She was so thoughtful! She's expecting a boy in February, so now Nolan will have a bestie growing up! We're so excited!
Now on to the 20 Week Bumpdate because last week was rather busy and I couldn't get my life together.
Whoaaaaaa we're halfway there! WHOA! Livin' on a prayer!! Come on... you knew I was bound to do that.
Chalkboard Art:
If you can't tell, we're still over the moon!
Size of the Baby:
6.5 inches, 10.2 ounces - Size of a banana
Gender:
Christopher Wesson, our little boy!
Maternity Clothes:
Momma McD, or Granda to Wes, took me shopping on Saturday for some maternity clothes. She bought me a lot of tops/tunics that should last me through winter and through delivery, but I'm really struggling with bottoms these days, so that was our goal. She got me 2 pairs of maternity pants (grey and houndstooth), a pair of the world's softest PJ's with pants, a tank, and a robe that will be great for the lounging around Wesson and I have in store post-delivery, and a black zip up jacket with ruching on the side to help with the growing belly. I LOVE all of it! We didn't buy jeans since I have the two low paneled pair and 1 full paneled pair, but as the bump is getting bigger I'm likely going to have to invest in another pair of full-paneled jeans. I am so grateful to Momma McD for spoiling me and my bump! Love you, Mom!
Movement:
Wesson was moving like crazy earlier on in the week, but has settled down a bit towards the end of the week. We can tell his movements more easily when I'm lying down or sitting. He's been active during the day which is nice because we're both getting great sleep during the night.
Sleep:
Pretty good. My back has been pretty sore and my bladder pretty full this week, so I've been tossing and turning and getting up in the middle of the night to pee, but unfortunately that's all pretty normal. Also, thank the LORD for the snoogle. That is all I will say. I'm not sure if I'll give it up once I'm done being pregnant.
Missing:
Sleeping on my back. That sounds silly to miss, but it is seriously the most comfortable position for me and it's killing me to have to sleep on my sides.
Nursery:
We've decided to go with a woodsy theme for Wesson's nursery. It'll have grey walls that I hope to paint over the break, the white crib, glider, and hopefully a white dresser for his clothes that can double as a changing table. I currently have my eye on this beauty for Nebraska Furniture Mart.
It's the perfect height for a changing top, and those top drawers have colored panels that can be changed out, though we love the grey.
We're also thinking that the accents will be mostly wood and white. These items below are my current inspiration. There's not a ton of space in the room so we don't want to overwhelm it with decor, but we both really like the following things for our little man.
We're going to do something like this with his initials or Wes over the crib, but probably in white letters. Those are ALMOST his initials. :)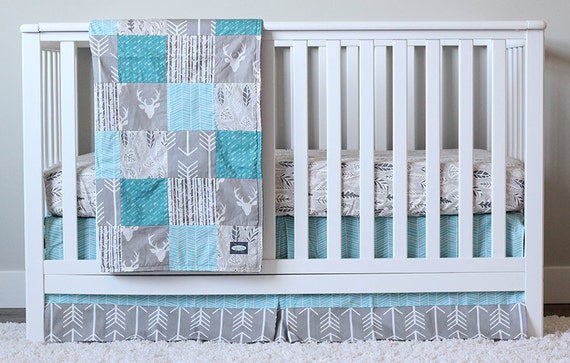 This is the bedding I want for him so badly, but it's not cheap!
Craving:
Not really craving, but have been eating a lot of chocolate lately. Shame.
Symptoms:
Heartburn. It's the worst. Coupled with my sore back this week and we're in good shape...
Ryan is:
talking to his little man like he's already here and helping make decisions about the nursery. Tomorrow our carpets get cleaned so we can start setting things up to prepare for Wesson! Ryan has been such a rock through this entire journey. I am so thankful to the LORD that He picked Ryan for me. He knew what he was doing that's for sure.
Looking forward to:
Decorating the nursery, setting up the crib, registering, and preparing for our little man!
Best Moments:
Since I'm still swooning from finding out Baby Nabs is a boy, that is the current best on our top chart. We get to see him again in 3 weeks because he was basically laying on his face and they couldn't get a good view of something they wanted to look at. DARN. I hate seeing my baby on the sonogram, said no mom ever.