Good Morning Lovely friends!
I am a day behind in participating in the Runners Tell All Link Up with The Lady Okie and Sunshine to the Square Inch, but one day late is better than no post. Am I right? Holla.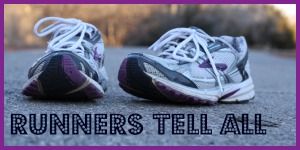 Today we're blogging about a bad race. I knew pretty immediately which race I was going to talk about since I feel like I've been fortunate to only have one really bad race. So, here we go.
I trained for, and ran, my first half marathon in December 2011 at what was then called the MetroPCS Dallas White Rock Marathon. I was pumped to train for, and run, this hometown race. When the day came it was cold and rainy, but despite the horrible weather, and staying bundled in my red rain jacket for the duration of the race, I finished and felt awesome! I told myself that if I could complete a half marathon in the rain that my next marathon would be a piece of cake.
My college roommate, Cari, told me she would be in Dallas in March of 2012, that she had signed up to run the Dallas Rock 'N Roll Half Marathon and that I should too. Coming off my first half marathon high, I thought this was a fantastic idea and immediately signed up for the race.
While training for White Rock, I had stuck to a very specific training plan that included running 3-4 times during the week and hitting my long runs on the weekend. Since I had felt so good and prepared for my first race, I guess I didn't really see that it had been my training that had prepared me so well, and since it was December to March I think I assumed I'd still be in pretty solid running shape three months after my first run. So I dawdled and didn't put much effort into my training.
Race day rolled around and I was feeling good, ready to run. Cari, who was supposed to be in a faster corral decided to stay back and run with me from my corral instead because, duh, we wanted to run together. I started pacing Cari, not overly concerned with my lack of endurance at that pace, and it wasn't too long that I had to stop. I would walk a little bit and then run again, and this went on two or three more times.
I could tell Cari was getting frustrated because unlike my lazy butt, she had trained for this race and obviously wanted to run the whole thing. I hate making people wait on me while running, and I convinced her to go ahead and finish the race on her own. I didn't want to keep her up, and as we were only at mile 4 I didn't want to do this to her the entire race. So, she went on and I was relieved.
I kept on, slower now, but still dragging, and slowly making forward progress. OH, and it was hot. I mean freaking hot. IN MARCH. Dying. Sweating. Exhausted.
Since it was so hot, the race course volunteers were handing out salt packets. Well, you know, since I was making great decisions I decided what the heck why not? Worst decision ever. I did not know what I was doing.
2 hours, 47 minutes later I finished my terrible, horrible, no good, very bad race. And that, my friends, is why you should always train for your races. Unless you're superman, or a pro-athlete... like that needs explanation. ;)
Happy Running!