Happy Friday Friends!
I'm linking up with Amanda from
The Lady Okie
, and Beka from
Sunshine to the Square Inch
for Runners Tell All! If you missed my post from the first link up, check out my running story
here
.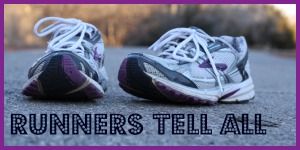 This time we're talking about our favorite running gear, and I'm pumped to share two of my favorite things. If any of you have been tracking with me, I've hit on this subject before, and I would bet that for those of you that have know what I'm about to say, but maybe there's something on this list that will surprise you... and me! :)
1) Lululemon Run Inspire Crop II
These beauties cost a pretty penny, but I can't stress, though I've tried here, how wonderful they are. They are so unbelievably comfortable and soft. Since May of last year I have racked up 3 pairs, and one pair of Wunder Unders thanks to seester.
These crops are very lightweight, made with Lululemon's luxtreme fabric and mesh. The luxtreme fabric is what the majority of the pant is made of, with the exception of the mesh siding behind your knees for some ventilation. They don't ride up or down, hit mid-calf (my favorite!), have a built in zipper pocket in the back, and are so unbelievably comfortable I wish I had a pair for every day of the year. These are great for long or short runs and everything in between, even lounging around the house or running errands. I told y'all, they're amazing. Well worth the money.
This is the pair I've currently got my eyes on.
2) Sweaty Bands
I stumbled across these beauties at a running expo for a race I wasn't even running in! Their slogan is, "OMG... they don't slip!" I was sold. Before Sweaty Bands, I experienced a lot of trouble getting my headbands to stay in their place while I ran, worked out, or even just running around the house or on errands. This only happened when I wore the circular headbands, but they were so cute and they tamed the unruly fly-aways that irritate me to no end that I didn't want to give up on them. Cue Sweaty bands entrance into my life.
I have about 6 or 7 of them now, and I am obsessed. My favorite are probably the glitter ones since the green glitter one was my first and came in really handy when kickball rolled around and we were green. Now that we're pink with

Racks&Sacks

, naturally I had to get a pink one. :)
These cute headbands cost a pretty penny too, at $15 a pop, they're not the cheapest headband out there, but they are worth it because they genuinely don't slip. They come in very thin sizes and some wider versions too, but I tend to stick to the thinner versions. I love them so much, I even applied to work for them at one point. They don't have a store front in Dallas, and I thought what the heck, I'll apply anyway. No go, but still love their headbands. Well worth $15.
What's your favorite running gear? I'd love to know what you can't live without and that I shouldn't be living without either! Comment below! I'm especially interested in what running watches, or training watches you use, and am looking at getting new socks. I previously used a Fit Bit Force, but those have been recalled. :(
Also, shout out to my sweet Mama McD! It's her birthday! I love you Mom, and am wishing you a wonderful day, you dancing machine!
Happy Friday friends! Enjoy the weather!