Y'all may know this already, but I used to work at the Make-A-Wish Foundation before I took my current job. If you're not familiar with the organization I highly encourage you to check it out
here
, but essentially they grant wishes to children with life threatening medical conditions. This doesn't mean that every child that has a life threatening condition is going to pass away, and I would say the majority of the kids MAW works with beat whatever cancer, condition, etc. they have. Just wanted to put that myth the rest. Kids are amazing!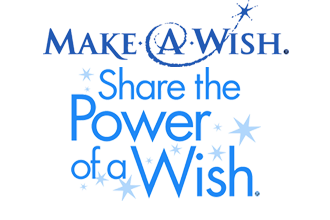 It was possibly the
best
job ever
, and when I left I wanted to continue working with the foundation so I continued my work as a Wish Granter! Wish Granters are what MAW calls their volunteers.
Each Wish Granter partners up with another Wish Granter so there are always two to a Wish Kid. I've got a pretty sweet deal in a Wish Granting partner because I'm married to mine! Ryan realized how much the organization meant to me and went through training so we could grant wishes together!
I know, he's wonderful.
As Wish Granters, we pick a child we want to work with and they become our Wish Kid from start to completion of the wish. Then we meet with the Wish Kid and their family to fill out paperwork, and the best part, help our Wish Kid decide what they want their wish to be!
Ryan and I were just assigned a new Wish Kid who we've actually been waiting on for a long time now. Jackson, our Wish Kid, is actually pretty special to us because Jackson is my boss's grandson. Jackson has leukemia and was diagnosed a year ago. He still has chemo once a month, but Jackson has had an incredible group of prayer warriors, has an incredible family, and a wonderful support team and has battled his cancer like a champ! Y'all, this kid is amazing.
When my boss told me that Jackson had been diagnosed with cancer at just three years old my heart sunk. Cancer is never a word any family wants to hear. Immediately my thoughts turned to Make-A-Wish because I knew Jackson would qualify for a wish. My job was actually handling the paperwork, making sure the child qualified, and managing any paperwork with the doctors, nurses, child life specialists, etc., so I
knew
Jackson would qualify.
I told my boss about it and since the whole situation was really new, he told his son and daughter in law, but the whole family was just trying to adjust to the situation. I can't blame them. Ryan and I hoped they would remember MAW and I knew the hospital that Jackson was being treated at referred lots of kids, so we waited, prayed for him and his family, and hoped he would be one of the kids referred. I had my old co-workers at MAW on the lookout to see if his name ever came up, and to my excitement about six months later my boss told me someone at the hospital had referred Jackson and he qualified!
My MAW friends sent us his information, assigned us as his Wish Granters, and last week we finally got to meet the little boy we've been praying for healing for for many, many months now! He has totally rocked our world. We are obsessed with him and his family and we haven't even got to meet his little sister or older brother yet, who both look adorable!
After our initial meeting Ryan and I left feeling like we could have been lifelong friends with their family and it was like catching up on old times. Jackson was a fireball of energy and warmed up to us really quickly as he donned his Spiderman costume, complete with muscles I might add, which was apparently a pretty good sign! Jackson has wished to go to DISNEY WORLD! We're waiting to hear from MAW and see if his wish has been approved.
*Fingers Crossed!*
It's so good to have finally met them in person. Y'all, being a Wish Granter is awesome. We'll update you as we hear more about his wish, but in the mean time if you would like more information on what being a Wish Granter looks like, how to become one, what the time commitment is, or more information about MAW, I would love to answer any questions you might have or point you to someone who can answer any questions I might not have answers to.
Until next time, best wishes!